SMH: V'landys undeterred after government blocks Fuller ARLC role
Peter V'landys says he is more determined than ever to transform the perception of rugby league players among corporate Australia despite police boss Mick Fuller being sensationally blocked from joining the Australian Rugby League Commission.
NSW Premier Gladys Berejiklian and ARLC chairman V'landys both rang NSW Police Commissioner Fuller to inform him he would not be allowed to join rugby league's top table on "legal advice", believed to relate to the payment of a $75,000 director's fee. Fuller had already pledged to donate the money to Police Legacy.
The U-turn came after V'landys had met key NSW government officials on Sunday seeking formal approval for the state's top cop to join the ARLC, which will hold its AGM on Friday.
Fuller issued an ominous warning that he would come down hard on player misbehaviour when it emerged V'landys had approached him about the role, sparking concerns of a conflict of interest.Advertisement
The Herald also revealed he had personally signed off on a recommendation to stop a former officer from serving on the board of the Cronulla Sharks in 2015, claiming the role was an "extraordinary to high risk" for the NSW Police Force.
But V'landys remains intent on ridding the game of its bad boy image, which resulted in the introduction of the no-fault stand-down rule two years ago and a hardware giant walking away from a sponsorship deal in recent months.
We're trying to address it because the marketplace is telling us if we don't it's going to have an affect on us

Peter V'landys
"Out of every negative there's a positive and the positive here is we've got the message out there that the one per cent that do the wrong thing are on notice," V'landys said.
"Ninety-nine per cent of the players are fantastic. If I call one and say there's a kid doing it tough in hospital, within minutes they're there. It is the one per cent that let everyone else down.
"Like it or not there's a perception in the marketplace that rugby players are bad. We're trying to protect the one per cent by making them think before they do anything. We're trying to address it because the marketplace is telling us if we don't it's going to have an affect on us – and I'm serious about addressing it.
"Even though we weren't able to get Mick Fuller it's not going to affect the determination to get it fixed."
As debate raged over Fuller's candidature, several NRL club chairpersons spoken to by the Herald on Sunday confirmed they supported his appointment. But within hours V'landys' coup had been scuppered.
The NRL said in a statement it "respects and understands the NSW government's advice on the matter".
The vacant ARLC role won't be filled before the AGM with a Queensland bloc pushing former Howard and Turnbull government minister Mal Brough as a contender.
V'landys is believed to be wanting a candidate with either a marketing or regulatory background, hence his pursuit of Fuller, who came with the recommendation of Phil Gould.
Tele: Mick Fuller's ARLC move falls flat after growing dissent
Police Commissioner Mick Fuller has sensationally withdrawn from the running for a place on the ARL Commission.
It follows a conversation between ARLC chairman Peter V'landys and NSW Premier Gladys Berejiklian on Sunday afternoon.
It's a blow for V'landys who was very public in his support for Fuller to take on the position.
But the move was met with significant backlash from those who saw it as a conflict of interest.
"Based on legal advice, both parties agreed that it was not legally possible to appoint Michael Fuller to the ARLC while he is the Commissioner of NSW Police,'' the NRL said in a statement.
"The ARLC is disappointed that Commissioner Fuller will not be able to join the Commission given the skills, experience and value he would have brought to the game. However, the Commission respects and understands the NSW Government's advice on the matter."
Mick Fuller finds out on Monday whether he can take up the role in the game's commission.
While there was genuine confidence within the game's administration that Fuller's appointment would get the green light, it ultimately became a political hot potato that the Premier was not prepared to carry.
Earlier on Sunday sources were suggesting it was now only a "50/50" chance of going ahead, although talk within the game at that point that Fuller had withdrawn his interest was off the mark.
However ultimately it was the Premier who made the final call.
V'landys had informed all NRL club bosses on Saturday that the NSW Government had previously given the idea its preapproval.
V'landys had been very public about why he believed Fuller would be a great acquisition to rugby league, given his experience and expertise that V'landys believed would be a huge asset in respect to implementing player behaviour policy.
Peter V'landys faces a real test of his leadership of the NRL.
It is fair to say there was genuine concern within some sections of the game and also at a government level that it would represent a conflict of interest to have the Police
Commissioner involved in making decisions relating to player behaviour and discipline standards, especially when police investigations are involved.
The ARL Commission will now have to go back to the drawing board to make a decision on who can take the position in place of Fuller.
Fuller's role would not have involved deciding penalties but assisting with setting policy.
It is the responsibility of the game's administration, led by chief executive Andrew Abdo and the integrity unit, to determine punishment.
V'landys did met with government officials last week to sound them out about getting Fuller on board and at that point the feedback was positive feedback.
V'landys then informed the NRL club chairman on Saturday that he had sort the preapproval but was still awaiting formal government approval.
_______ 20 February
SMH: The letter that shows NSW's top cop blocked ex-officer from NRL role
NSW Police Commissioner Mick Fuller personally signed off on a recommendation to block a serving officer from sitting on the board of the Cronulla Sharks, a decision the ex-director claimed was "career destroying".
Just a day after Fuller confirmed he had been approached by Australian Rugby League Commission chairman Peter V'landys to fill a vacancy on the commission, while still serving in his NSW Police role, it can be revealed the state's top cop played a major role in forcing a then-serving sergeant to resign from a directorship at club level.
Glenn Gorick, a sergeant based at Sutherland who has since left NSW Police, was made to stand down as a Cronulla board member in early 2016 because it didn't meet NSW Police's secondary employment policy.
In documents seen by the Herald, Fuller rejected Gorick's application to sit on the board while also serving as a member of the NSW Police Force.Advertisement
Gorick's application was deemed an "extraordinary to high" risk, in part due to the potential damage to the NSW Police Force "from the officer's involvement with the club as a director stemming from the recent findings of ASADA [into the Sharks' supplements program".
Gorick did not have an official role at the club during the 2011 peptides scandal.
The report also says there was a perceived conflict of interest due to the liquor-and-gaming component of the club's business, which NSW Police said was not fully disclosed in Gorick's initial application.
The assessment denying Gorick permission to sit on the Cronulla board was signed by his former superintendent Julian Griffiths, and was then rubber-stamped by Fuller, then the assistant commissioner of the central metropolitan region.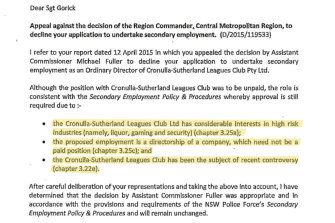 Fuller told the Herald on Friday he "stands by" the call.
Gorick appealed NSW Police's decision and provided a letter from former Sharks chief executive Lyall Gorman, which stated the director "will not be involved in any area of our business or any decisions or actions related to liquor or gaming".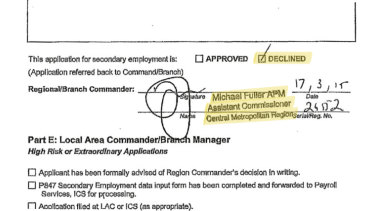 Gorman also volunteered to manage any perceived risks with Gorick's non-paying role, which was to focus on the areas of community engagement, fundraising, player welfare and mental health, according to the letter.
But the application was again denied by NSW Police's human resources chief Carlene York, who "determined that the decision by Assistant Commissioner Fuller was appropriate".
"They want us to be able to move into other jobs so we try to get ourselves involved in local sport and other entities, but because I had to stand down I lost opportunities to join other boards," Gorick said.
"It was career destroying.
"I was a highly respected family member who had been part of the club for 40 years, but I was tainted because I had to stand down and wasn't allowed to disclose why because I was serving at the time. It ruined any future opportunity to return to the board and potentially other employment opportunities.
"I was platforming on player misbehaviour and misdemeanour. Part of my role was to talk to the players in regards to mentoring in wake of incidents with Todd Carney and Blake Ferguson while trying to combat those from happening again."
Gorick quit the Sharks board in the opening weeks of the 2016 season, in which Cronulla would go on to win their first title. He claimed he was still invited to the grand final by former directors, who were disappointed about the manner in which he had to leave the club.
"Secondary employment for police in the liquor, gaming and racing industry is considered high risk," Fuller said in a statement.
"On this occasion back in 2015 the officer's commander believed the applicant did not fully disclose his duties in the application and the risks could not be mitigated with conditions. I recommended the application be declined on that basis.
"I stand by it."
Fuller has sought approval from NSW Premier Gladys Berejiklian to take on the role with the ARLC, which will hold its AGM next Friday. He has said he will donate his $75,000 directors fee to Police Legacy if appointed.
The ARLC directorship will be vastly different to a board role at some NRL clubs and the commission is charged with setting the overall strategy for the game, and has no interest in running licensed venues.
His potential arrival at rugby league's top table will be aimed at stemming the issue of player behaviour, with Fuller warning "people should be careful what they wish for".
The 52-year-old was a huge ally for V'landys and the NRL in their bid to fast track the competition's resumption after the COVID break last year, and comes with the recommendation of Phil Gould.
But his shift into rugby league hasn't come without criticism of a conflict of interest, with NSW Labor leader Jodi McKay one of the highest profile people to question the juggling act.
"I think Mick Fuller can be the police commissioner or he can work with rugby league, he cannot be both," McKay said.
Former Queensland politician Kate Jones was last year appointed to one of two vacant roles on the ARLC which had to be filled after the resignations of Mark Coyne, following revelations of his arrest in Singapore, and Foxtel executive Amanda Laing, who stood down to avoid a perception over a conflict of interest during broadcast rights negotiations.