Thousands of emergency workers are being exposed to dangerous bodily fluids on the front line, risking contracting blood-borne disease. But medical experts question calls for mandatory testing.
Leaders in HIV prevention have criticised a government plan for mandatory disease testing to be rolled out across NSW as it was revealed close to 3000 police officers, corrective officers, nurses and doctors are exposed to bodily fluids from prisoners, patients and the public each year.
Health experts argued the bill was useless, suggesting it alienated people living with bloodborne diseases and impose further unwarranted fear from emergency workers. They called for the government to clarify the inclusion of saliva from spitting or biting in the legislation.
A submission by Police Association of NSW secretary Patrick Gooley into the Parliamentary Inquiry into the Mandatory Disease Testing Bill found an average of 2218 NSW Health representatives face incidents of exposure to bodily fluids by patients in NSW Hospitals each year, while a further 1627 nurses and doctors are involved in human bites or needle stick injuries.
A massive 450 incidents of exposure are estimated for NSW Police officers each year, with a further 60 biting and needle stick injury incidents.
Corrections officers experience an average of 130 incidents of exposure to bodily fluid each year.
The Mandatory Disease Testing Bill calls for blood testing for people over the age of 14, who deliberately inflict or expose bodily fluid to responding emergency services workers when there is a risk of contracting a bloodborne disease.
Under the bill, people who refuse testing could be imprisoned for 12 months and or face an $11,000 fine.
Blood-borne viruses include diseases such as hepatitis B, C, HIV/AID and Syphilis.
In September, NewsLocal revealed assaults against NSW Police officers cost taxpayers a massive $36 million in workers compensation claims over five years, while also identifying the local government hot spots where police were being bashed.
A parliamentary inquiry into NSW Police assaults heard calls for a violent offenders register to be established for cop bashers, which would restrict them from pubs and clubs.
Mr Gooley said "disgusting and intentional acts" were causing harm to emergency service workers, through physical violence, psychological distress, fear of contracting a disease, and degradation of emergency service workers.
"Offenders are using syringes as weapons, spitting mouthfuls of blood, or flinging and smearing bodily fluids to harm emergency service workers," Mr Gooley said in his submission.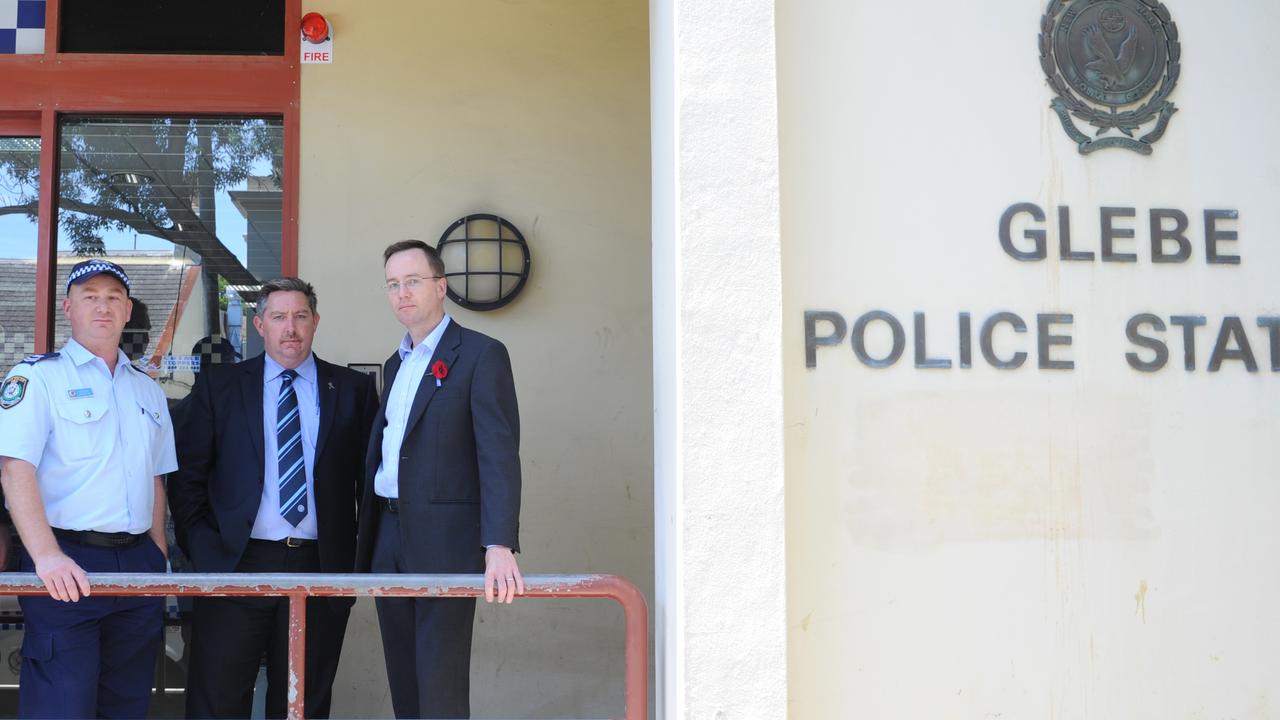 Leading Snr Constable Fabio Remondi, Patrick Gooley from the Police Association and David Shoebridge MLC at Glebe Police Station.
"This exposes emergency service workers to bodily fluid in circumstances of violence, physical injury, and disgusting and traumatising conduct.
Mr Gooley argued the need for mandatory testing comes after "intentional acts of violence against emergency service workers" placing the lives of emergency services personnel at risk.
While in her submission to the inquiry, Australian Medical Association president, Dr Dannielle McMullen said mandatory testing laws are not supported by global health bodies including UNAIDS and the World Health Organisation.
Dr McMullen said AMA NSW does not support the plans for mandatory testing.
"We are concerned about the use of force that may be required by Police or Corrections officers in order to undertake mandatory testing and the potential safety risks that would on the person involved," Dr McMullen said.
"The benefits of mandatory testing to emergency services are very low and certainly do not outweigh the impact on the rights of the source person to consent to medical testing."
"The risk of infection from an incident depends on many factors, including the amount and type of bodily fluid (such as) blood, saliva, vomit, the mechanism of exposure, if the exposure occurred on broken skin, if the person was known to be infectious, and the exposed person's immunity," she said.
"AMA NSW acknowledges the stress emergency services personnel experience following exposure to blood and bodily fluids and potential for transmission of BBVs.
"It is vital that emergency services personnel are given prompt assessment, counselling and management by a health care professional."
However, Dr McMullen argued mandatory testing would contribute to "the stigma and discrimination of people living with HIV, hepatitis B and C".
Australian Society of HIV, Viral hepatitis and Sexual Health Medicine president, Dr Nicholas Medland said mandatory testing was "against medical evidence, Australian Government testing policy and good practice".
He told the inquiry testing could be dangerous and lead to further injury and exposure.
"We share the view that it is important to reduce their (emergency workers) anxieties about blood borne viruses," he said. "The current bill does not do that and may make those anxieties worse.
"We fail frontline workers if we pass this legislation."
Dr Medlands said emergency personal restraining someone who is refusing a blood test would place to representatives at risk.
ACON chief executive, Nicholas Parkhill, urged the government to continue it's "public health response" to blood borne viruses, rather than a criminal response.
Public Service Association of NSW general secretary Stewart Little argued the stress and anxiety brought on by an assault involving bodily fluid for a Corrective Services officer is from the immediate an ongoing fear of contracting a disease into the future.
"This is because some bloodborne diseases can take up to six months to be detected via blood tests," he said.
"What this means for that officer is that they essentially enter a period of limbo where the possibility of having contracted a disease forms a dark cloud over their entire lives, particularly their home life.
"They must become vigilant about how they interact with their families in order to minimise the risk of further transmission."
UNSW HIV Epidemiology and Prevention head, Prof Andrew Grulich said there was zero risk of transmission of HIV from spitting or biting when the skin is not broken or there is no blood.
"The proposed legislation is inconsistent with the scientific evidence on transmission," he said. "Most people who are currently on treatment … are extremely unlikely to transmit."
NSW Users and AIDS Association chief executive Dr Mary Ellen Harrod said not all Corrective Services inmates are tested for Blood-borne viruses when they are taken into custody.
The Opposition has issued its support for the bill, meaning it is expected to pass in the Upper House with bipartisan support, once the Parliamentary Inquiry has handed down its findings.